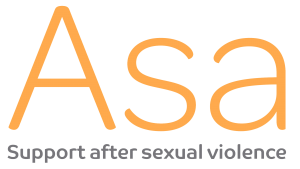 Provided by Notts SVSS
About ASA
The ASA Hub is the name given to a range of services created in partnership with local commissioning groups and co-designed with survivors.
The service is for all adults living in Nottingham or Nottinghamshire, who have experienced sexual abuse.  It delivers a single point of contact for survivors of sexual violence of any kind whether the abuse took place in childhood or in adult life.
Notts SVS Services has been commissioned to provide the ASA Hub and services.  We are pleased to do this and to work with survivors and agencies to ensure the best outcomes for those who have experienced such abuse.
ASA Services
We support all adult survivors of sexual violence and abuse. 
Our services are designed so that you can get support in ways that are safe and easy to access. We understand the needs of different survivors including age, gender, or whether a person is BAME or LGBT+ 
We have a wide range of support options and can refer into other services as needed.
All our services follow our confidentiality and privacy policies. Our opening hours include daytime, evenings and weekends.
The Hub
The hub is a single point of access for referrals by telephone, online and email. It is staffed by qualified and trained workers.  You can refer yourself into services or you can ask someone to do this on your behalf.  The hub:
provides a telephone helpline for support, information and to refer into services
manages referrals
undertakes risk and needs assessments and makes sure people are safe
triages and refers into appropriate services
The Hub is open:  
Monday to Friday 10am to 1pm and then 4:30pm – 7:30pm
Saturday 10am – 1pm
Counselling and Therapy Services
These services are provided by qualified and registered therapists.  Our staff understand trauma and its effects and have experience of working with survivors of sexual abuse. We offer a choice of a male or female therapist with women are supported in a women-only space.  Men are also supported in a male-only space.
Where support is needed by a person whose case is in the Criminal Justice System, we follow the guidance given for safely delivering pre-trial therapy.
Our therapeutic services are open 9am – 8pm Monday to Friday and from 10am – 1pm on Saturday.  Our services are offered online, in person and over the phone.
Counselling offers a safe space in which you can express your thoughts and feelings about what has happened.  It can help you feel less isolated and help you to re-gain control in your life. More
Support Group called "Beyond Survival" which runs Quarterly throughout the year. Groups are single-gendered and help promote a safe place to share and learn. More
We offer partners, parents, family members, and friends of those who have been abused up to 8 sessions of short term counselling/therapy.  More
We offer email support to anyone who needs it. This may help if speaking on the phone or seeing someone online or face to face is difficult. More
CBT – Cognitive Behavioural Therapy
These sessions are provided over a short period of time.  They give space for learning different strategies that help people cope with everyday life.
Therapy for Young People
Young people aged 16-17 who are accessing the EMCYPSAS may be offered some of our adult services.  EMCYPSAS will refer those people in directly.
Client Groups
We run different types of group support with survivors including Beyond Survival and Creating Safety.  We are looking to set up a peer support group in the near future.  Please do let us know if you would like to be involved with these.
We also want to work with groups who are less likely to use services such as ours so that we can look at how we can remove barriers to getting support.  If you would like us to know more about your group please contact us.
Service User Engagement and Involvement

There are many ways that survivors can get involved with the development of our service.  Our Service User Forum Group is a place where survivors can give feedback and let us know know what is going well and where change might be needed.  Please let us know if you want to find out more about this.
You can also leave feedback via our  online feedback form.  Our You Said – We Did page shows how your feedback has lead to developments in our service.
We have created a Charter for service users so you know what you can expect from us and how you can be involved in having a voice and shaping our services.
Training and Talks
We offer a popular programme of training delivered each year to other professionals and organisations on the impact of rape and sexual violence.  We also provide lectures, talks and presentations.
The ISVA Service and the Survivors Support Service continue to be run by Notts SVSS and are separate from ASA.
Independent Sexual Violence Advocacy (ISVA) Service
Our trained workers can help you understand your rights and the services you can access.  If you choose to report to the police they can support you with this and through the criminal justice process.
Survivor Support Service
This service can support anyone aged 18+ who has experienced recent or non-recent institutional childhood sexual abuse.  Our workers will work with you to help you make choices and gain control in all aspects of your life.
RESOURCES