Surveys and Consultations
Take part in these surveys and consultations to make your thoughts and experiences heard.
Use Your Voice
There are lots of ways to use your voice.  Here are some opportunities to have your say and influence change that can help prevent sexual violence and improve the services that are offered to survivors.
To provide feedback on Notts SVSS, the easiest way is to use our online feedback form or phone the helpline on 0115 941 0440.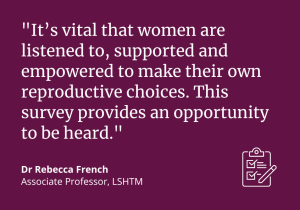 Women's views on experiences of reproductive health sought.
A new, national online survey has been launched to gather vital data on women's menstrual health, contraception, pregnancy planning, and menopause. Delivered by the London School of Hygiene & Tropical Medicine, and funded by the Department of Health and Social Care, the survey is open to all women in England aged 16-55 years.
Findings from the survey will be used to better understand women's reproductive health experiences over time. The vital information gathered about the lives and experiences of women will inform current and future government decision-making and health policy
Surveys from Nottingham Trent University Law School
Below are details of surveys being run by Nottingham Trent University Law School.  Information is on the images.  You can scan the QR code or click on the image to go through to the survey.
RESOURCES