Find out what we've been up to since the launch of the new A-Z
The last four months have been really busy for the Consent Coalition.  Since we launched the new Night-Time A-Z of Consent we have continued to make an impact in Nottingham, across the UK and even overseas.  Here are some of our highlights…
Visit by the Home Secretary
On the afternoon that the Night-Time A-Z was launched, Coalition Manager Louise Graham was asked to meet the Home Secretary Suella Braverman.  She had come to Nottingham to look at several different projects and was really pleased to learn more about the A-Z of Consent and the Safe Space Pledge.  She praised how members of the Consent Coalition work together to raised awareness of consent and reduce sexual violence.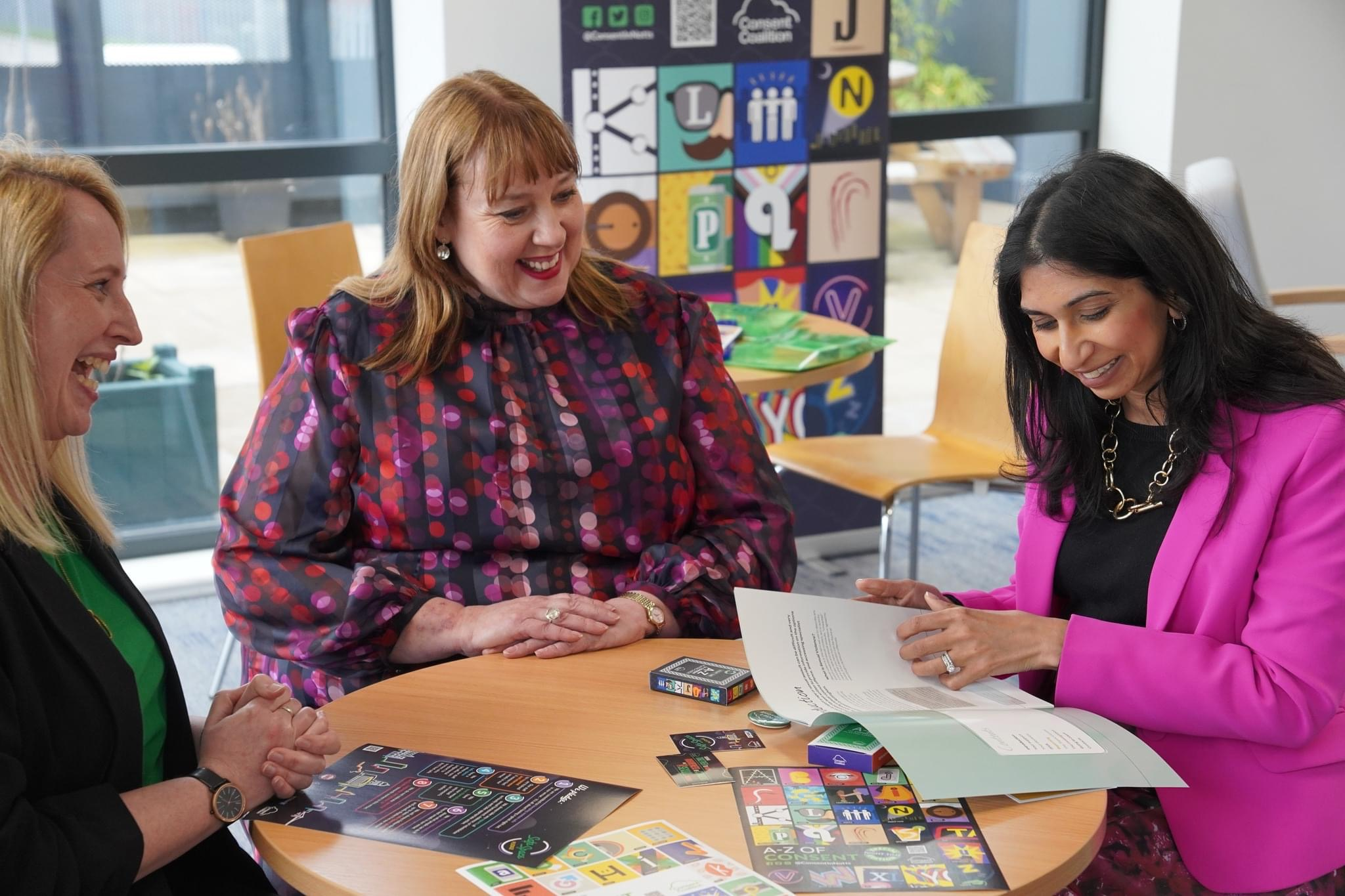 Safe Space Pledge taken to National Rape Crisis England and Wales meeting
In June, our colleague in Notts SVSS spoke about the Safe Space Pledge at the national Rape Crisis England and Wales Prevent meeting.  The focus of the meeting was on the prevention of sexual violence in the night-time economy.  Information about the pledge and how it had been created and was being run was well received, with the suggestion that schemes such as this should be sustained by local Late Night Levy funding schemes.
Notts Pride
Coalition members Notts SVSS took Consent Coalition resources to Notts Pride for us this year.  It was a fantastic event where people found out more about the A-Z and the Safe Space Pledge and took details of where to get support.
Karen of Notts SVSS said 'We absolutely love coming to Pride each year, which is a celebration of people being proud of who they are and who they love.  Consent is a key part of all relationships, so sharing the A-Z of Consent and details on where to get support makes absolute sense.'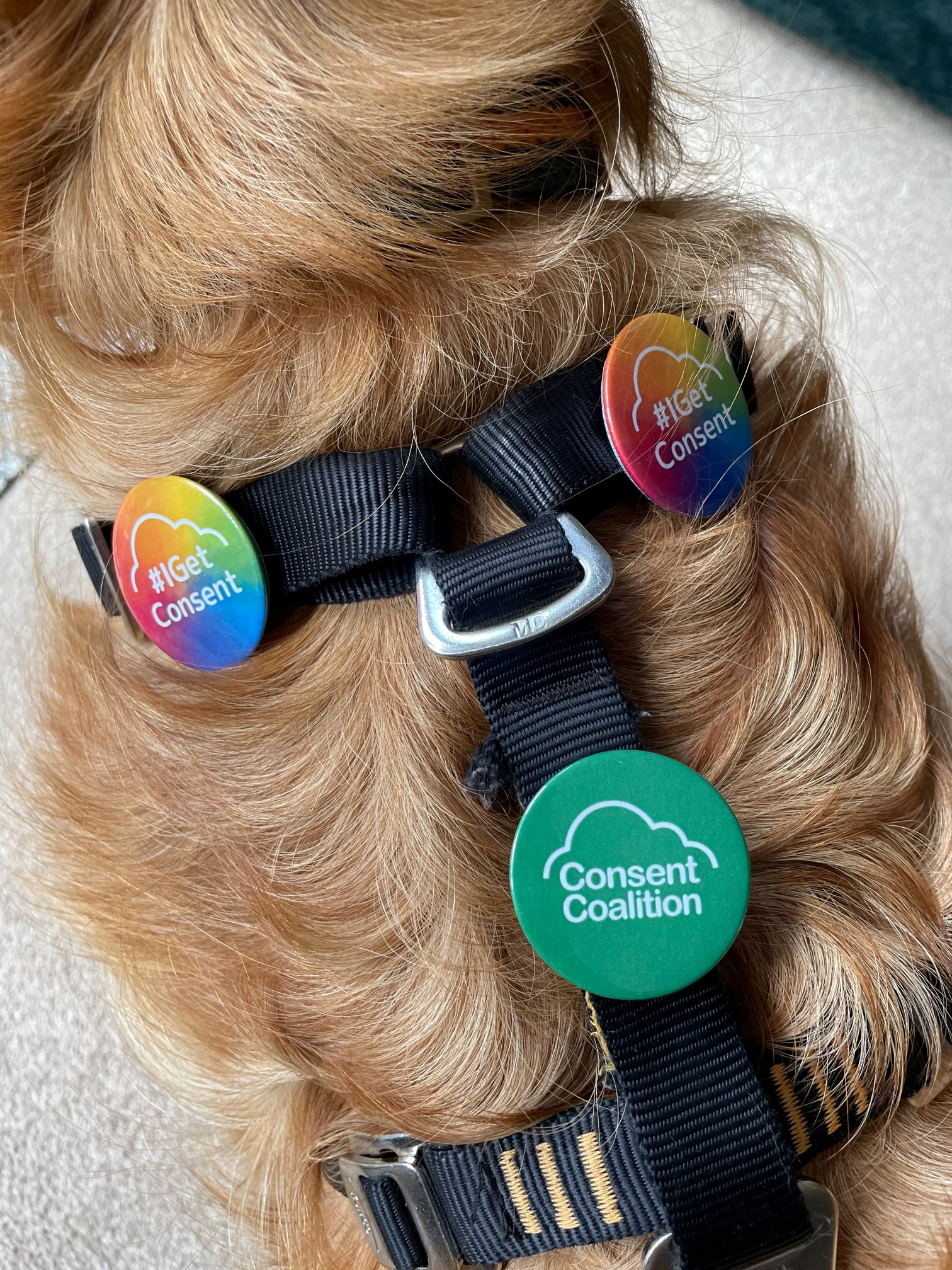 Make a Difference
In August, BBC Radio Nottingham invited the Consent Coalition onto their 'Make a Difference' feature.  This promotes people and organisations that are doing good for the local community.  Katrina, our representative from Nottingham Trent University, spoke about how the campaign was put together, the conversations it sparks and how mandatory consent workshops for all first year students are helping students get confidence in navigating consent.
London Music Journalist Article
Also in August, we were asked if information about our campaigns and work being mentioned and signposted to in an article on women's safety in the music business.  The article looked at how a lack of structure and a fear of being labelled a trouble-maker can make it difficult for women to complain about the sexual violence and harassment they experience, particularly early on in their careers.  Of course we said yes, and you can read the article on this link.
Visit from Jess Philips MP
In what proved to be a bumper August, Labour Shadow Minister Jess Philips MP (Domestic Abuse and Safeguarding Lead) visited Nottingham to meet with the Consent Coalition and people working in the Night-Time economy to hear about our impactful projects.  She heard about the Consent Coalition model of working together, the Safe Space Pledge and how it is used in venues across the city along with the Best Bar None accreditations.  Jess expressed how progressive Nottingham has been in tackling Violence Against Women and Girls, calling us the 'Brighton of the Midlands!'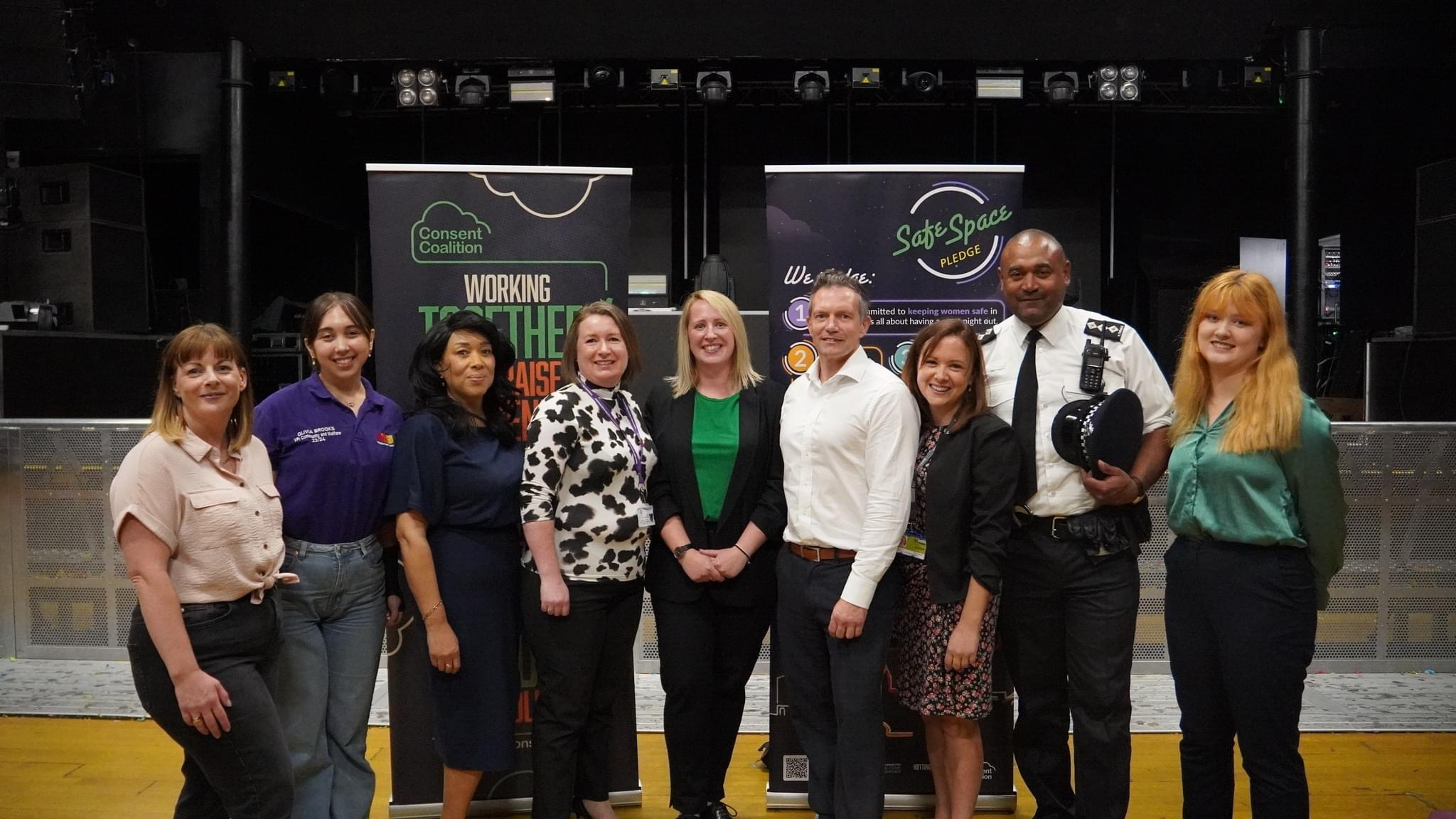 How to get involved
We are really pleased that the Night-Time A-Z of Consent has had such an impact and raised so much interest in our work, talking about consent and reducing sexual violence.  With students now back in Nottingham and both universities holding mandatory consent training, we are really looking forward to supporting this work at events like the Student Lock-In and student Wellbeing Weeks.  If you see us in town or at an event, say hello and come and take some information or resources.
Lots of people want to know how they can get involved with the campaign.  And one of the simplest ways is to follow us on social media and share our posts.  You never know how much a simple share could impact another's life!