The A-Z of Consent Arrives in Nottingham
The A-Z of Consent Arrives in Nottingham
Nottingham today saw the launch of a tram and a bus covered in the A-Z of Consent.  The vehicles feature different words from the A-Z of Consent, with search words to find the wider resource online, including downloadable posters, awareness raising resources and support information.
The aim of the project is to encourage bold conversations on consent, in turn making sexual violence more easy to identify and less socially accepted.  The campaign provides key facts for each letter of the alphabet to address a multitude of consent themes that have been identified during the past 12 months.
In addition to the bus and tram, the backs of two other buses are also being covered with the words 'Kiss' – because a Kiss is not a contract and does not mean you have to do anything else and 'Ultimatum.'  Posters have also been put up in strategically placed tram stops and will remain in place for the next year.
The project was funded with money secured by the Nottinghamshire Police and Crime Commissioner Caroline Henry following a survey that was run in Autumn 2021.  It is one of several projects aimed at raising awareness and creating conversations around consent and acceptable behaviour.  Other projects also funded include the Safe Space Pledge and training for venue staff and bystander intervention training.
Supporting the campaign, Commissioner Henry said: "While consent may seem a simple concept to most, there continues to be a lack of awareness, respect and understanding about what it really means, as evidenced by the many prosecutions through our courts every year.
"People need to understand sex without consent is rape – and that includes within a relationship. There is no justification and no excuses. Consent impacts everyone, from married couples and friends through to new and long-term partners."
Louise Graham, Sexual Violence Lead for the Nottinghamshire Crime and Drugs Partnership at Nottingham City Council, said: "The Nottingham Consent Coalition recognises how important it is to educate each other on consent and challenge sexual violence myths and behaviours. The more you know, the more you can influence positive change.
"We are really proud that Nottingham is adopting a zero tolerance stance towards sexual violence by sharing the 'A-Z of Consent' campaign in such visible public spaces, like the NET tram and NCT buses.  By raising the awareness of consent, we can start to create a culture where consent is at the centre of all relationships."
NOTES TO EDITORS:
The A-Z of Consent is hosted on Consent Coalitions website, where visitors can find a downloadable poster for each letter and more information about each theme.
All the A-Z of Consent posters and resources can be downloaded for free and be shared locally, regionally and nationally.
The Coalition are active on social media and you can share their work from there too.
As with all good things consent is based around communication. The resources have been created so that we can keep adding information over the coming weeks and months. If anyone wants to suggest more words do let us know!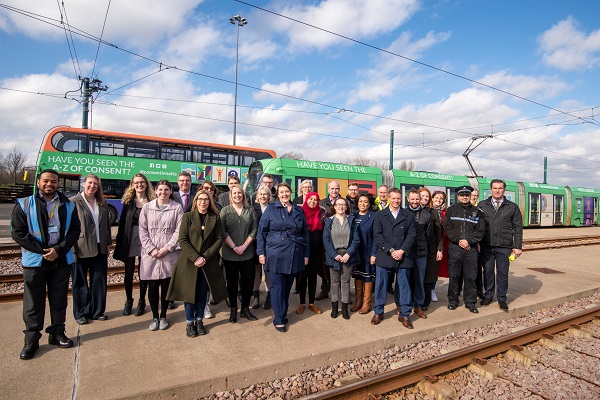 The Consent Coalition stands together to say that Nottingham does not tolerate any form of sexual violence