Rebranding Event is a Huge Success
On 6th June, following a rebranding process, Nottinghamshire Rape Crisis Centre became Notts SVS Services.  SVS stands for Sexual Violence Support and the name encompasses the many different services we offer to anybody aged 13 and above in Nottingham and Nottinghamshire.
Guest Speakers
The event included many guest speakers who have or are working with us or supporting us.  Paddy Tipping, Police and Crime Commissioner for Nottinghamshire spoke about the need for the services that we offer and thanked us for being a 'Pillar of Support'.
David Edgely, editor of QB, spoke about the needs of LGBT people accessing sexual violence services and how our new website is particularly accessible.
Holly Swinkles from Nottingham Women's Centre spoke about misogyny now being logged as a hate crime by Nottinghamshire Police and the positive impact it has had on women in the area.  Trustees from Notts SVS Services and CEO Novlet Holness also spoke, as did Dawn Thomas, Chair of Rape Crisis England and Wales.
Long-Term Funding
We thanked commissioners for the long-term funding we have received.  This has made the expansion of services possible and also ensured their continuance over a longer period of time, enabling clients to access the services they need at a time which is suitable to them.  We also spoke more about our new services, new website and our new range of leaflets, colour coded to the services we offer.
Food and Networking
Refreshments were provided at the event, as well as a fantastic cake.  This time enabled speakers and attendees to network with each other and find out more about our services.  Take home bags, which included our new leaflets and information about misogyny were also given out.
Social Media
Our social media accounts were changed over ready for the event and we tweeted under the hashtags #NottsSVSS and #WeBelieveYou throughout the event, as did many other people representing LGBT groups, the local White Ribbon Campaign, and other organisations.  There are some wonderful photos and observations about us online.
The next few months…
We are really excited about our change of name and the new services we offer, but our work does not stop here.  We are now busy informing people and organisations of our name change, with mailshots and e-newsletters and are ready to send out leaflets to organisations upon request.  We are also launching a Survivor's Support Service for survivors of Institutional Childhood Sexual Abuse this month.
If you are an organisation in the Nottingham or Nottinghamshire area whose clients would benefit from knowing about our services, please let us know and we will send an information pack out to you.  You are also welcome to share our e-newsletter and details of our website to other organisations or people as appropriate.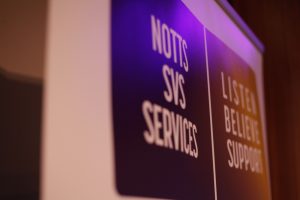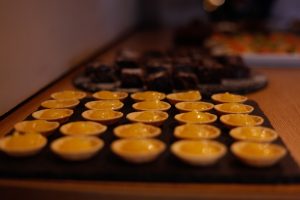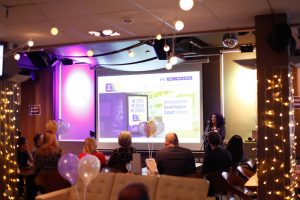 Images courtesy of Roseanna Escobar-Byrne