New A-Z drives more conversations on consent
A year after the original A-Z of Consent was put on public transport in Nottingham, a special edition Night-Time edition has now been launched.
The new edition focusses on consent themes that might be seen more at night-time and includes information on Afterparties, Flirting, Groping and Spiking.
Notts SVSS are proud to stand with other organisations saying that Nottingham does not tolerate any form of sexual violence
Notts SVSS are proud to stand with other organisations as part of the Consent Coalition today at the launch of the new Night-Time Edition of the A-Z of Consent.  The new A-Z focuses on 26 consent issues that are more likely to be seen in the night-time and includes a tram and buses featuring the new A-Z, with posters in prominent spaces.  Online there is access to many other free resources including posters and social media packs.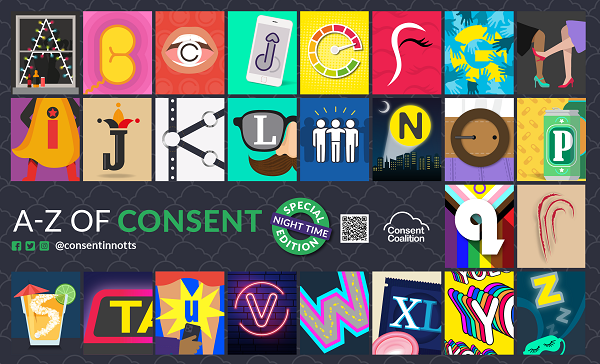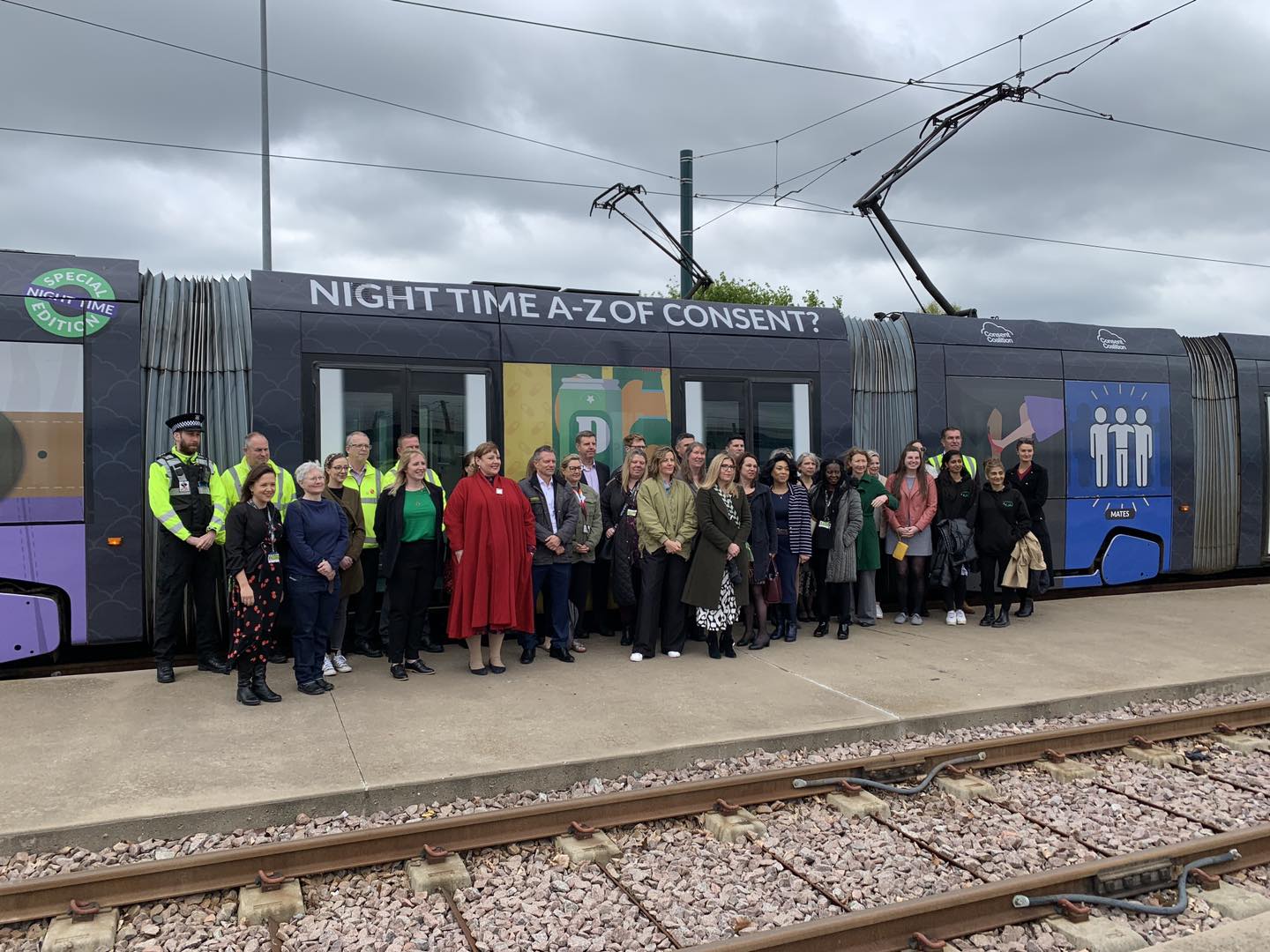 Challenging attitudes
Notts SVSS provides a range of support options to survivors of sexual violence, including a helpline, counselling and therapeutic support and an ISVA service.  But we are all too aware that there is another important role we have and that is in challenging the myths and attitudes that allow sexual violence to happen.
You don't have to search too hard to uncover some of the many rape myths that both victim-blame the survivor and excuse the rapist.  A survey for the Independent found that 55 per cent of men believed that 'the more revealing the clothes a woman wears, the more likely she is to be assaulted.'  Yet we know that people are raped wearing a variety of clothing, from jeans to gym-wear, pyjamas and this myth doesn't stand true.
This is why we are pleased that the Night Time A-Z includes words like Flirting, Joking, Outfits and Spiking and why these are not an excuse for rape.  Crucially the resource also looks at the responsibility of others to help keep people safe.  Intervene is a feature word and in 'Mates' challenges you to 'have a word' if your mate is making others uncomfortable.  There is also a focus on the work already being done by venues as part of the Safe Space Pledge.
At Notts SVSS we are clear that victim-survivors are never to blame.  "If a person doesn't consent to sexual activity of any kind then it is always sexual violence. And 100% of the blame lies with the perpetrator or perpetrators" explains Novlet Holness, Chief Executive of Notts SVSS.
"The reality is it is everyone's responsibility not to accept that rape and sexual violence as just one of those things that happens to women and girls."
Notts SVSS are key partners in the Consent Coalition, which also includes both Nottingham's universities, Nottinghamshire Police, the CPS and Nottingham City Council.  Other projects we have been involved with include the creation of the Safe Space Pledge and the Your Journey Guide for survivors.  We are proud to host the coalition website to keep people talking about consent, challenge sexual violence and direct people to support.
Quotes from other key partners
The night-time version has been funded with Home Office Safer Streets 4 money secured by the Nottinghamshire Police and Crime Commissioner Caroline Henry.  Speaking about the campaign Commissioner Henry said "This campaign is big, bold, eye-catching and unashamedly edgy because we want to provoke big conversations that help everyone be clear that sex without consent is rape.
"People might find this a challenging subject to talk about with their loved ones. That's why this campaign puts the issue front and centre as people travel around Nottingham and helps to give people a starting point to ensure we don't shy away from conversations about consent.
"With better education comes better behaviour and we hope this campaign will help to prevent sexual violence and ensure there is zero tolerance for perpetrators and more support for survivors."
Louise Graham, Sexual Violence Lead for the Nottingham Crime and Drugs Partnership and Nottingham Consent Coalition Co-ordinator spoke more about the new campaign.
"What does consent mean? How do we talk about it? Why is it so important?
"These are just some of the questions that are answered in our new Night Time A-Z of Consent campaign, which looks at consent themes that might occur more often at night. This time, we're talking about how to keep people and their peers safe on a night out, and encouraging positive sexual behaviours that promote respect, equality, and most importantly… consent.
"Our original A-Z of Consent campaign has been shared all over the country, with over 47,000 pageviews on our website and reaching over 2.5 million people on social media. We're so proud of the Night Time A-Z of Consent and grateful to all our partners who have supported this campaign."
Links: